Cruise In 2017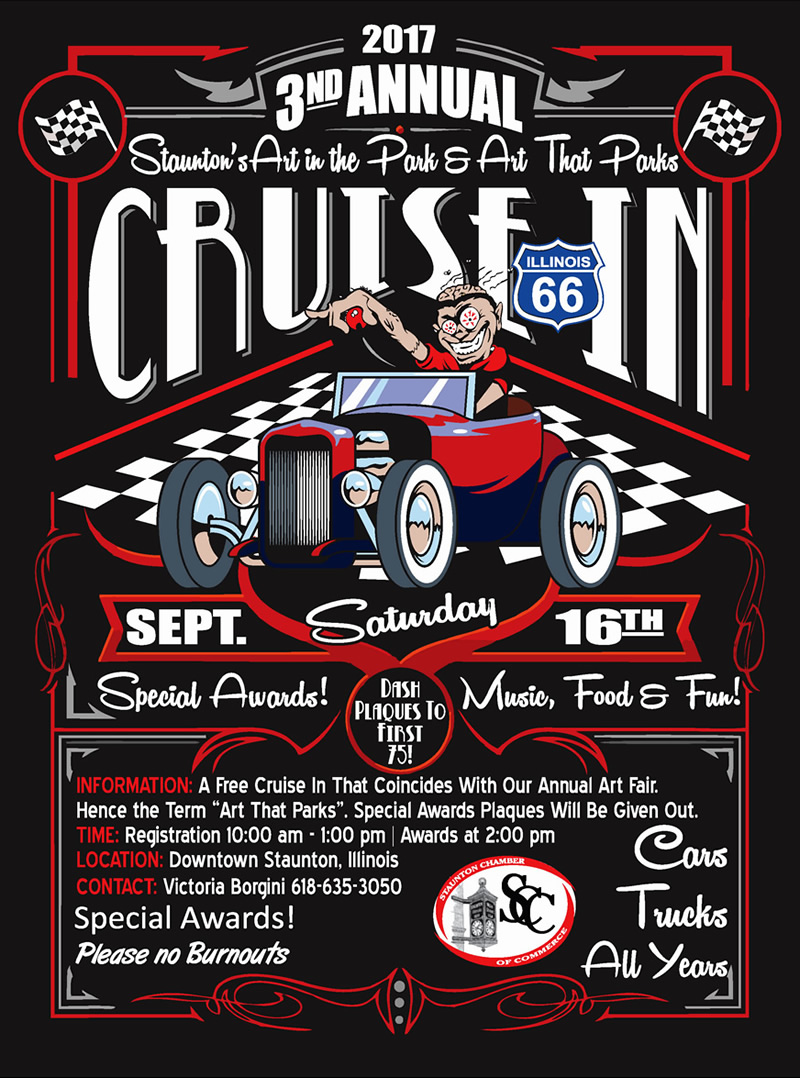 CRUISE IN - September 16th, 2017
Events start at 10:00 am
Downtown Staunton, Illinois
The second annual Cruise In is Saturday on Staunton's Main Street for Staunton's Art That Parks, a FREE event on September 16th. This event is "Rain or Shine".
Entry check-in will take place from 10:00am - 1:00pm. Viewing will take place until 2:00 pm. Awards will be presented starting at 2:00. See contact below for more information about participation.
Special Awards Plaques will be giving out for this events participants. Dash Plaques for the first 75!
This year's Special Awards include:
Mayor's Choice, Alderman's Choice, Chiefs' Choices, Chamber's Choice, Sheriff's Choice, Best 4X4, Citizen of Years Choice, Best Car, Best Truck, Best of Cruise In, & More!
Contact Victoria Borgini at 618-635-8337 for more information.
View Awards and Images from last year's event
---
This year's event coincides with 2 more City of Staunton Events!
Starting on Friday, September 15th, Staunton's 8th Annual Art in the Park will be taking place in Duda Park and extends into Saturday.
On Saturday morning, starting at 8:15am (registration starts at 7:00am) will be Staunton's 11th Annual Tractor Ride - In Memory of Ronnnie Kraner. This event is supported by Staunton's FFA Alumni, "Friends for Ag". View the flyer to learn more information.
TAGS:
Art in the Park
Art That Parks
City Event
Cruise In
Tractor Run