1st Annual SCC Casino Night!
Saturday, March 3rd, 2018
5:30pm - 10:00pm
Crstyal Ballroom - Staunton, Illinois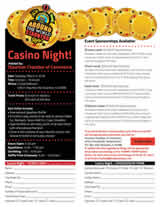 Download this Flyer
for Tickets
& Sponsorship Forms!
Go Around the World...Staunton Style!
Join us at the Crystal Ballroom for Casino Night, hosted by the Staunton Chamber of Commerce. Each Ticket includes access to the International Appetizer Buffet, $10,000 in play money to be used at various tables (i.e. Blackjack, Texas Hold 'Em, Craps, Roulette, etc.) Opportunites to win many prizes of all sizes will be available!...Most with International Themes!
Come in costume of your favorite country and receive $10,000 in extra play money!
Doors will open at 5:30pm
Appetizers are served from 6:00pm to 7:00pm
Gambling begins at 7:00pm until 9:30pm
Raffle Prize Giveaways start at 9:30pm
Tickets are now available! See a participating Chamber Member to purchase in advance. Advanced tickets are $45.00. Tickets at the door on the night of the event are $50.00. Download the flyer on this page for more information on advanced tickets!
---
Event Sponsorships Available!
Help sponsor this event and receive tickets and more! Your name or business will appear on the Sponsorship Board plus TV sets playing throughout the event!
Sponsorship Levels range from Bronze to Platinum. The higher the level, the more benefits you'll receive. Benefits range in number of included tickets, advertisements, play money and more!
Sponsorship Forms are available with the flyer on this page. Fore more information, contact the SCC President or Officers to find out how you can help the community by participating in this event!
TAGS:
Casino Night
SCC Event