Lori Semanek, Staunton's 2019 Citizen of the Year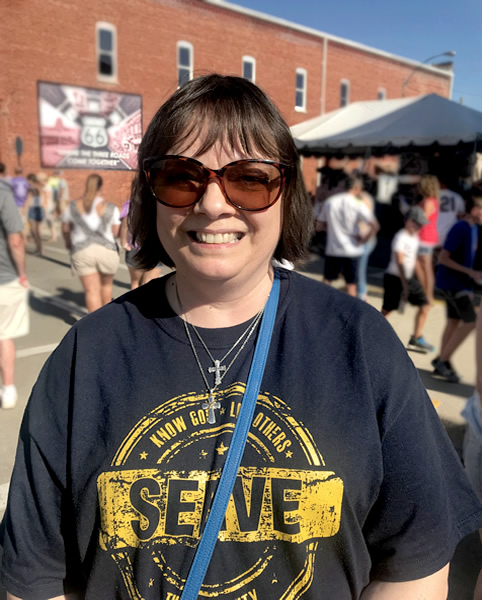 Pictured is Staunton's 2019 Citizen of the Year, Lori Semanek.
Lori (Bianco) Semanek was born and raised in Staunton, Illinois. Lori graduated Staunton High School in 1981, married Bob in 1982 and has two children. She retired as a beautician after 25 years and teaches Sunday School, being active in her church for over 40 years in various roles. You will see her at HIS Service Station(appx. 30 years), Staunton Food Pantry(10 years) - Kids Cafe(last 10 years), Concordia(2 years) and our Chamber of Commerce for the last 2 years.
Below are excerpts from Lori's nomination entries:
~ "Lori contributes a full-time job's worth of work towards the organization she supports. Not only does she devote all of her time volunteering and helping others throughout Staunton and the surrounding towns, but she does it not expecting anything in return and she continued to do it while beating cancer. She is the person that stays longer at church so that the woman who is going through a hard time has someone to vent to. She is the person that hears of a resident's house burning down and she reaches out and coordinates gathering items for them. She is the person that hears of someone losing a family member and checks up on them. She is the person who changes around her schedule to babysit when a mom doesn't have one. She is the person, that when the elderly women could not afford to pay her for styling their hair (when she worked as a cosmetologist), she accepted their baked goods as payment. One absolutely amazing mother and a devoted woman of God, she moves through life being carried by her faith and the need to serve others. She donates, she volunteers, she contributes, she provides and she works hard. Lori deserves the recognition of her constant hard work."
~ "Lori is an amazing woman! She has helped so many people with her work at Staunton Helping Hands Center, as well as the thrift store. She is an active member of Net Community Church who helps with Sunday school, as well as leading a community group. In the past year, she unfortunately lost her father. During that year she continued to put everyone else ahead of her, and worked hard for our community. She is a great example of what it means to be an amazing citizen!!""
~ "Lori is a member of our committee who truly cares and expects nothing in return. Last year, Lori fought breast cancer and lost her father. Nevertheless, she still volunteered her time for the good of our community. She doesn't expect anything in return. All of her work is on a volunteer basis. Lori is truly a great citizen.""
~ "She seems to have dedicated herself in causes involving the less fortunate and those in need and has been doing it for a number of years. I admire what she does and gives to the community and her husband helps and supports her involvement.""
Nominations were sought from Staunton's community and voted on by the Chamber of Commerce. Presention of the award was at Staunton's 2019 Ribfest celebration July 13th, 2019.
Thank you Lori! You have made Staunton a better place to Work, Play and LIVE!
TAGS:
Citizen of the Year